A critical element of self development is time spent with yourself, doing the things that you love. We often get a case of the guilts as we dawdle doing something enjoyable but not terribly productive. I know I often have that mental gymnastics of thinking I should be doing something else. However, what I've found and many have written on in the past is that time alone doing something you love is time well invested.
With permission to share this: I was working with a client recently who was feeling pretty miserable. She had been incredibly productive in the past month and had come to the end of an extremely successful exhibition. She knew that she would be tired by the end of it but had also found the experience thrilling and immensely rewarding. Through the course of setting it up and running it, she had had a taste of a lifestyle she loved and she wanted to do it more. However, the realities of her "other" life kicked in and she dutifully threw herself back into accounts and arranging appointments and the like. Her exhaustion kicked in and despite taking a mini beach holiday with her husband, she came back unhappy and feeling resentful.
When we sat down to discuss how she was feeling, all sorts of issues emerged but one in particular inspired this post. She described to me how she had spent some time on the beach during her weekend, doing little sorties with her husband down to the sand. However, she had felt an overwhelming draw to go walking along the beach for miles and miles on her own and of course didn't. She recalled how intense the feeling was and how disappointed she was that despite her little holiday, she came back feeling flat. To me this was an obvious flag- you have to listen to what your body/gut is telling you and hers was screaming for a recharge in a very specific way.
Among other things we looked at what she had planned in the coming week. She was a very organised person and knew what was coming up but didn't have any real weekly schedule. After determining what appointments and tasks needed to be done and by when, we mapped out a schedule. Monday was essentially free and her first opportunity to plan without the restrictions of appointments…Perfect. A long walk along the beach by herself was written down. Regardless of the weather she was committed to investing some time in herself and the deal was photographic evidence, which she was happy for me to share with you in this post.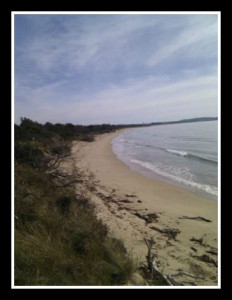 We then put in a few more of the obligatory tasks and appointments and then sandwiched them between another walk later in the week. She agreed that until she was feeling better about herself and her circumstance there was no point pushing. "Cobwebs cleared" was the accompanying message. Although there are still other things to put in place and work around, she was already feeling a million times better.
The reality is that with the cobwebs cleared, time invested in ourselves and feeling renewed and refreshed, we are more productive and happier in our work. Here's the bit I love…that means time spent doing something frivolous, fun, that brings you true joy, is in fact an important investment in your productivity at work, and your sanity in your home and personal relationships. You can be a better person just by investing in time alone with yourself. What do you plan to do about that fact?